San Juan de Dios Market or Liberty Market or Mercado San Juan de Dios in Guadalajara is a tourist symbol Located in the district of San Juan de Dios the Liberty Market in Guadalajara is one of the oldest in the city and offers visitors, which has been one of the keys to success, from crafts, traditional clothing, jewelry, and even leather articles like Sandals.
The Mexican folklore enclosing the Mercado Libertad, better known as the Mercado de San Juan de Dios, has become an icon of the capital and, moreover, represents the domestic tourists must see and foreigners.
With an area of ​​four thousand square meters, the market becomes a delight to the eye of the visitors, after offering a very special colorful in its structure and mainly to the large variety of items for sale.
Oscar Carrillo Arteaga, Market administrator of the Mercado de San Juan de Dios, said at least 40 tenants are founders of this market, billed as the largest in Latin America and Artistic Heritage of the Nation.
He announced that currently the occupancy is about three thousand 800 individual stores. "Retailers have been transferring from generation to generation, there are third-generation, for example, some people's grandparents were here when store were made of boards and also in the old market," he recalled.
Tourism in Traditional Mexican Markets in Guadalajara Mexico
Carrillo Arteaga added that the bulk of the customers are tourists even said in any given day the Liberty Market receives from many nationalities, especially during holiday periods.
He stressed that he now serves as administrator of the property, but is himself a third generation as tenant, like much of his family. "Traffic Here comes from foreign visitors in the very center of the city, in the place of my dad have a guest book in one day and have received Chinese, Americans, Venezuelans, Colombians, Salvadorans, many parts of the world" he explained.
He said that foreigners prefer what most will remember Mexico as sweets, traditional clothing, shawls, overcoats, blankets, silver, wood and clay items, t with national symbols, and leather sandals.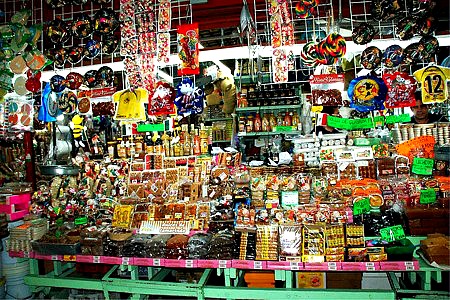 Meanwhile, Mexican tourism also visits the market to eat a dish typical of Jalisco, like Guadalajara customers who come to buy food, clothing and footwear mainly.
Holidays periods Christmas, Easter and Summer are the most important dates for tenants, because the largest percentage of their customers are tourists.
History of Liberty or San Juan de Dios Market in Guadalajara
He stressed that the present building was inaugurated on December 28, 1958, but the mall dates from 1880 when it was tablitas market, where traders tended their merchandise in a blanket and then was the old market.
Carrillo Arteaga also said they have had to fight to continue the essence that was born this market, since a few years ago tried to demolish it to build a foreign outlet mall.
The visitor seeking fresh food stalls and sweets can go to the first level of this market while those seeking a restaurant and food stalls, you must visit the second floor.
Meanwhile, on the top floor, you can find imported goods, clothing, electronics, music, movies, computer equipment, paint and shoes, among other things.
The market is open every day of the year. For those who like haggling and buy items typical Mexican import, should come to this building built by architect Alejandro Zohn 55 years ago and despite the various economic crises remains as an invaluable cultural heritage of Jalisco.